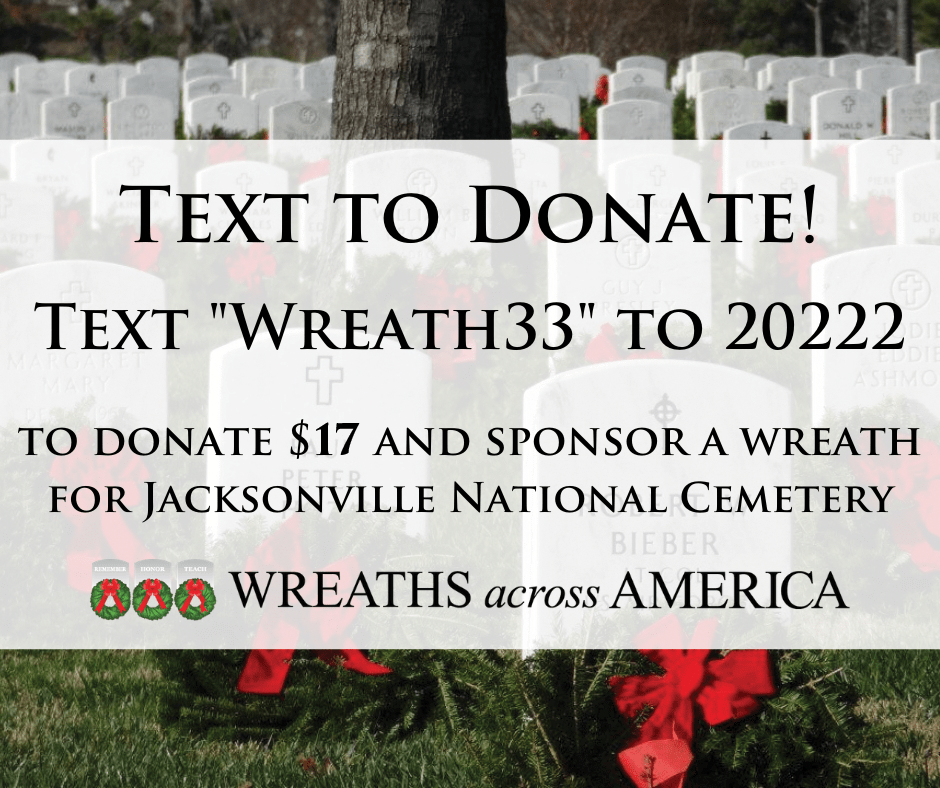 Text Donate
Use your smartphone to donate $15 and sponsor a wreath with the following code:
Text WREATH33 to 20222
Our Wreath Goal This Year:
****If you have signed up to volunteer through the national website and was asked to arrive at 12:00 or 1:00 please disregard that time and arrive between 9:00 and 10:00 am. ****
Saturday, December 18th, 2021
Section Leaders Arrive at JNC, Check in, Get Orange Vest
Motorcycle Escort stages at Winn Dixie
550969 US-1, Hilliard, FL 32046 - MAP IT
Section Teams and offload helpers arrive at JNC
Motorcycle escort and tractor trailers leave Hilliard heading to JNC
Motorcycle escort and tractor trailers arrive at JNC
Arrival time to JNC for community groups helping with offloading and placing of wreaths
Nationwide moment of silence
Ceremony begins after minute of silence
WAA Script is read and Placement of ceremonial wreaths
No live audience, This will be done as a Facebook Live event
Due to National Cemetery Guidelines we have changed the order of WAA day. Wreath laying will begin as soon as the section leaders have confirmed their box count and they are offloaded from the trailers. The general public is asked to place ONE wreath at a time, say their name and then retrieve another wreath to repeat again. We are required to stay socially distant so if a WAA Section Leader or a JNC staff member asks you to change sections so that section is not as crowded, and you do not have a family member in that section, please oblige by changing sections.
Family members will not have a designated time on December 18th to place their wreaths. Due to certain limitations we ask family members of loved ones to place an American flag the week prior to December 18th to let volunteers know that a family member will be present to place their own remembrance wreath. Section leaders will not place a wreath on a headstone with an American flag until we are at the end of the event. We do not know how long this will take but we should be finished placing wreaths by 1:00 PM. All wreaths will be placed by 2:00 PM.
Parking is offsite at the Anheuser-Busch turf plant 16163 Lem Turner Rd, Jacksonville, FL 32218 (corner of Lem Turner and Lannie road). Buses will transport people to and from the cemetery from approximately 8:00 AM until 1:00 PM. The only people who are able to park on JNC property that day will be those with handicap placards. JNC will have golf carts to transport people from handicapped parking to the section of their loved one.
WAA volunteers and the general community are asked not to gather in large groups. Please respect the cemetery staff and their policies and stay socially distant while on JNC property. We are guests of JNC and should act accordingly.
Please remember the focus of placing a "Remembrance Wreath" is to say their name and honor their memory. Please only place 1 wreath at a time and then go to retrieve another wreath. Please do not carry more than 1 wreath at a time. There is a lot of walking that happens during our event and it may seem "inconvenient" to only carry 1 wreath at a time, but this is the mission of Wreaths Across America and it is the very least that these veterans deserve.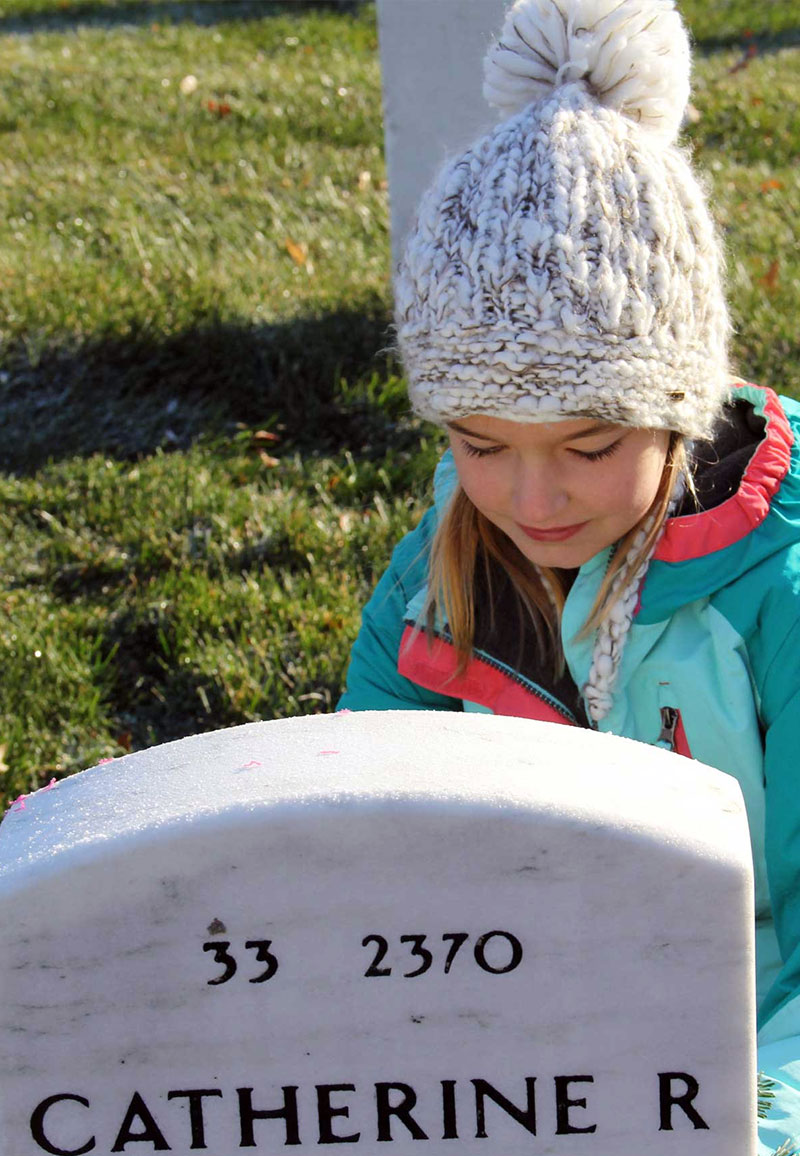 About Wreaths Across America at The Jacksonville National Cemetery
Each December on National Wreaths Across America Day, our mission to Remember, Honor and Teach is carried out by coordinating wreath-laying ceremonies at Arlington National Cemetery, as well as at more than 1,500 additional locations in all 50 U.S. states, at sea and abroad.
Join us by sponsoring a veterans' wreath at the Jacksonville National Cemetery, volunteering or donating to a local fundraising group.
The Event Location
Jacksonville National Cemetery
4083 Lannie Rd
Jacksonville, FL 32218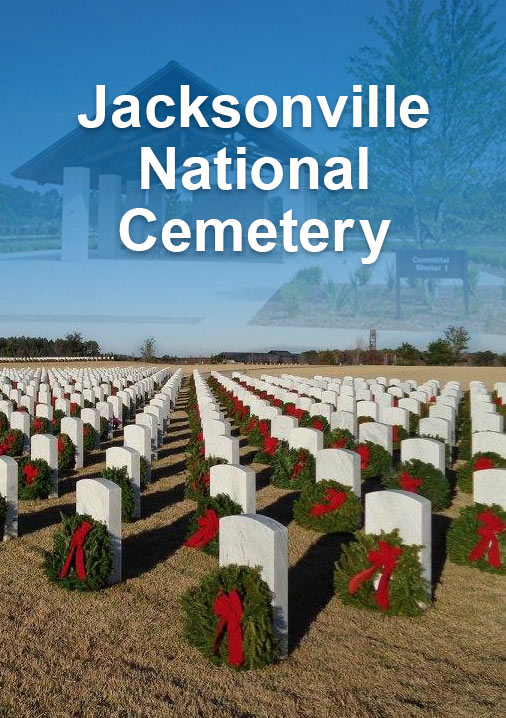 Jacksonville National Cemetery
Wreaths Across America at the Jacksonville National Cemetery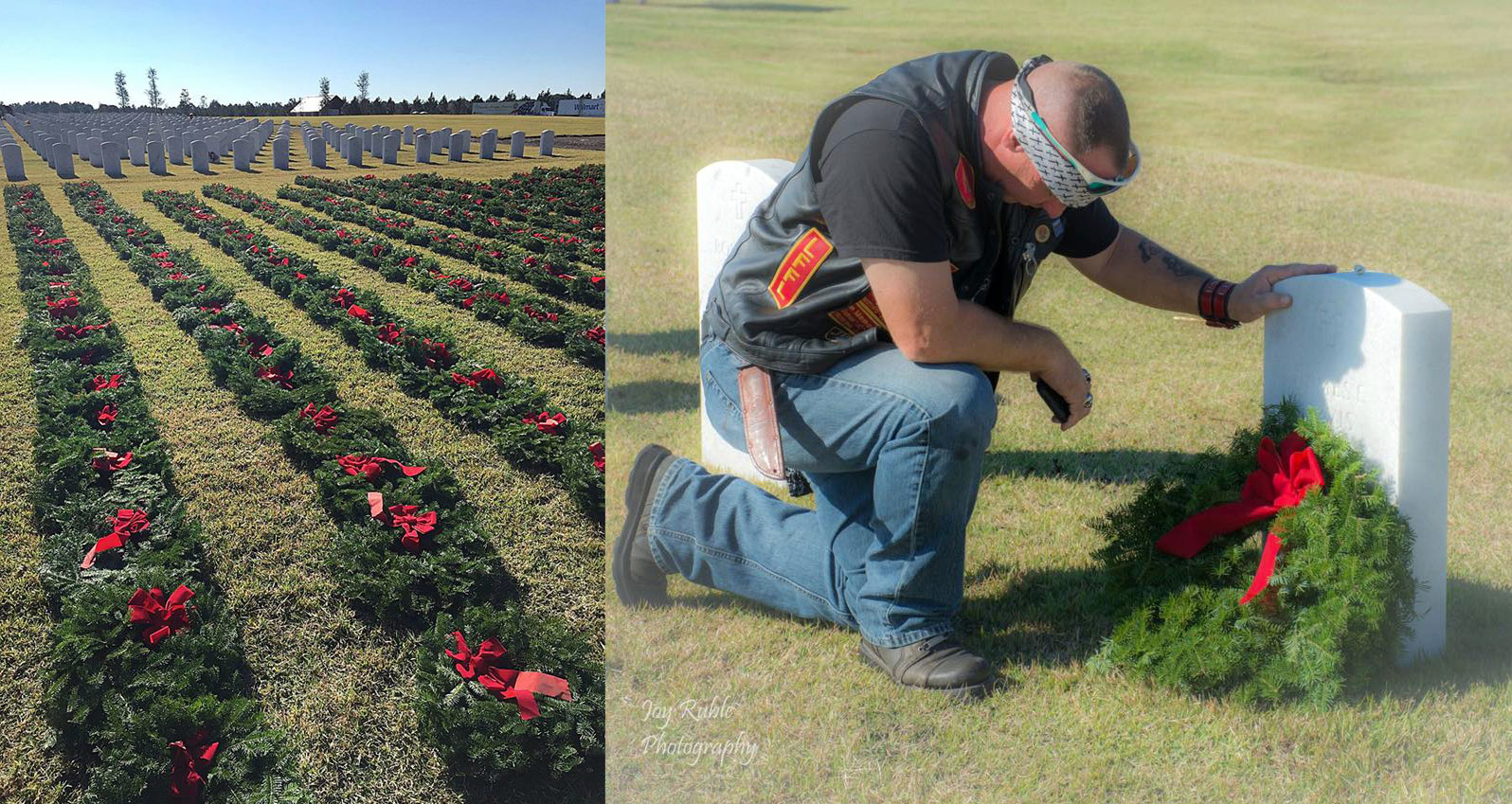 Get in Touch
Send us a message and we will get back with you as soon as possible.
Thank You.
Wreaths Across America at the Jacksonville National Cemetery.
MilSaver.com is an online shopping site featuring over 500 stores including the best-known names in retail. The site features over 30,000 coupons and deals to help you save money. The site is FREE to use, open to the EVERYONE. Wreaths Across America at the Jacksonville National Cemetery gets 90% of the profits generated when you buy something through the link.  Shop now, shop often and tell your friends to shop too! Thank you for helping us help veterans!