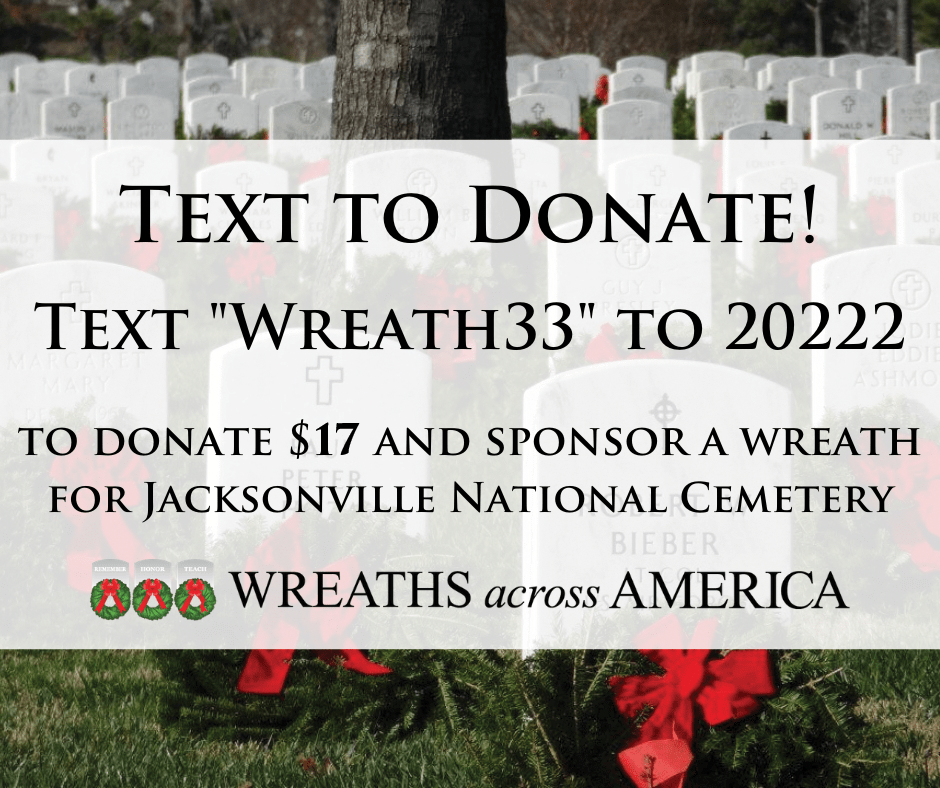 Text Donate
Use your smartphone to donate $15 and sponsor a wreath with the following code:
Text WREATH33 to 20222
Our Wreath Goal This Year:
Our 2022 Event will be a 1 day event without any of the prior
Covid restrictions we have had in the past!!!
Buses will begin at 8:00 am shuttling the general public from the offsite parking to JNC
(off site parking address listed at the bottom of this page).
If you have questions when you arrive at JNC please look
for anyone in an orange vest to ask for help.
Golf Carts will be available to transport the handicapped around the cemetery.
Saturday, December 17th, 2022
Section Leaders Arrive at JNC, Check in, Get Orange Vest
Motorcycle Escort stages at Winn Dixie
550969 US-1, Hilliard, FL 32046 - MAP IT
Motorcycle escort and tractor trailers leave Hilliard heading to JNC
Arrival time to JNC for community groups and the general public helping with offloading and  placing of wreaths

Motorcycle escort and tractor trailers arrive at JNC
Offloading and staging of wreaths by community members

Families ONLY are invited to place wreaths for family members
"Let Freedom Sing" chorus begins at assembly area
Special Award Presentation
Ceremony to begin with a Nationwide moment of silence at the JNC assembly area (THIS IS A NEW AREA FOR THE CEREMONY FROM PREVIOUS YEARS)
Ceremony begins after minute of silence
WAA Script is read and Placement of ceremonial wreaths
Families are invited to place wreaths 
The general public is invited to place wreaths in every section. 
Please dress for the weather!
If it has been raining prior to our event the ground will be wet and in some places muddy.
Wear the appropriate footwear. The weather can change!!!
It may be cold in the morning but by the afternoon it can be hot out there.
Please dress in layers.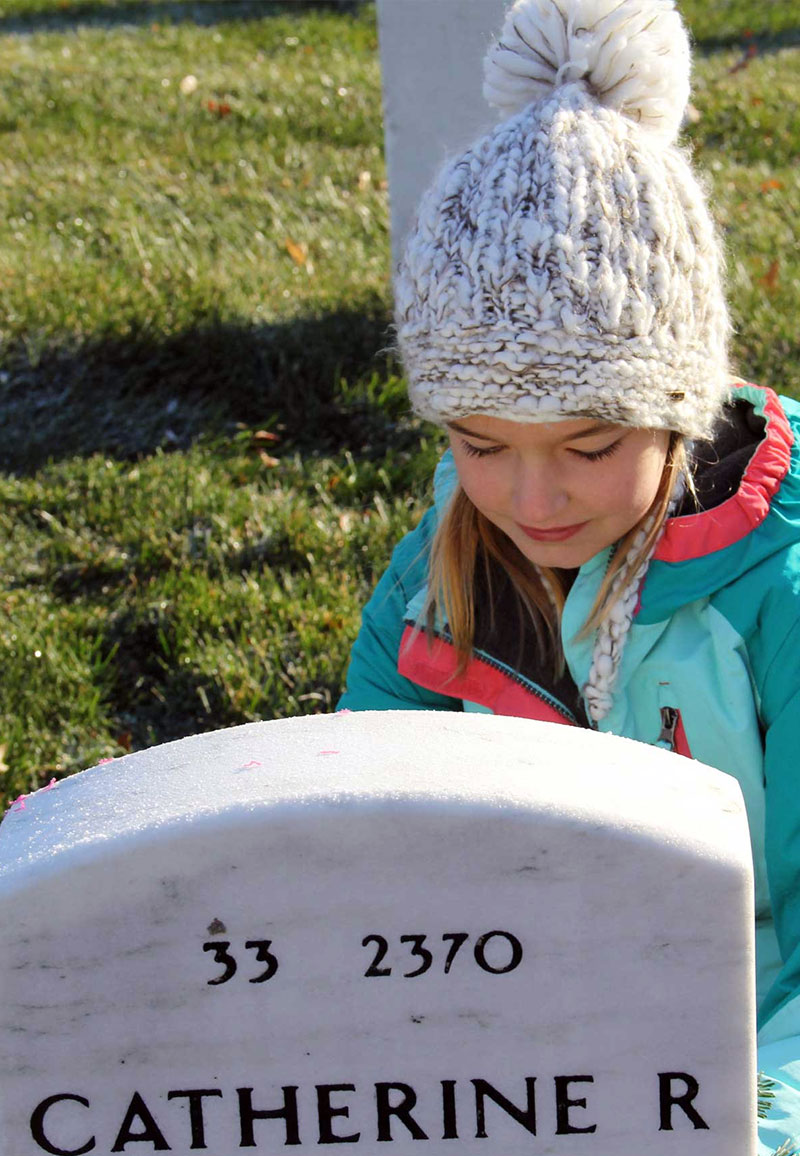 About Wreaths Across America at The Jacksonville National Cemetery
Each December on National Wreaths Across America Day, our mission to Remember, Honor and Teach is carried out by coordinating wreath-laying ceremonies at Arlington National Cemetery, as well as at more than 1,500 additional locations in all 50 U.S. states, at sea and abroad.
Join us by sponsoring a veterans' wreath at the Jacksonville National Cemetery, volunteering or donating to a local fundraising group.
The Event Location
Jacksonville National Cemetery
4083 Lannie Rd
Jacksonville, FL 32218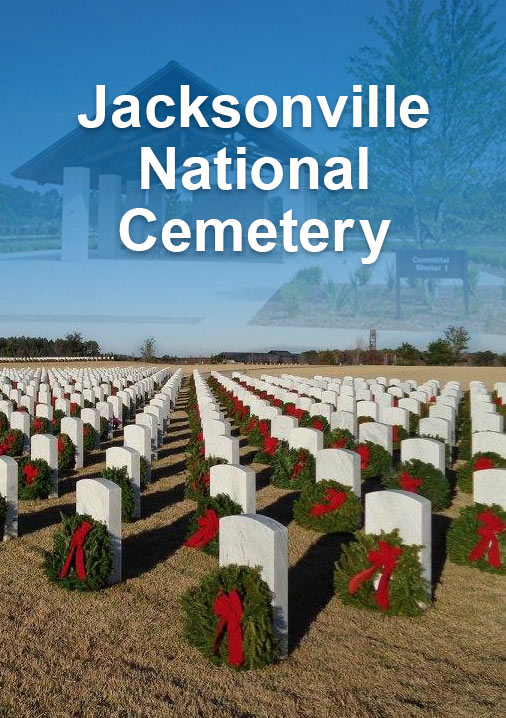 Jacksonville National Cemetery
Wreaths Across America at the Jacksonville National Cemetery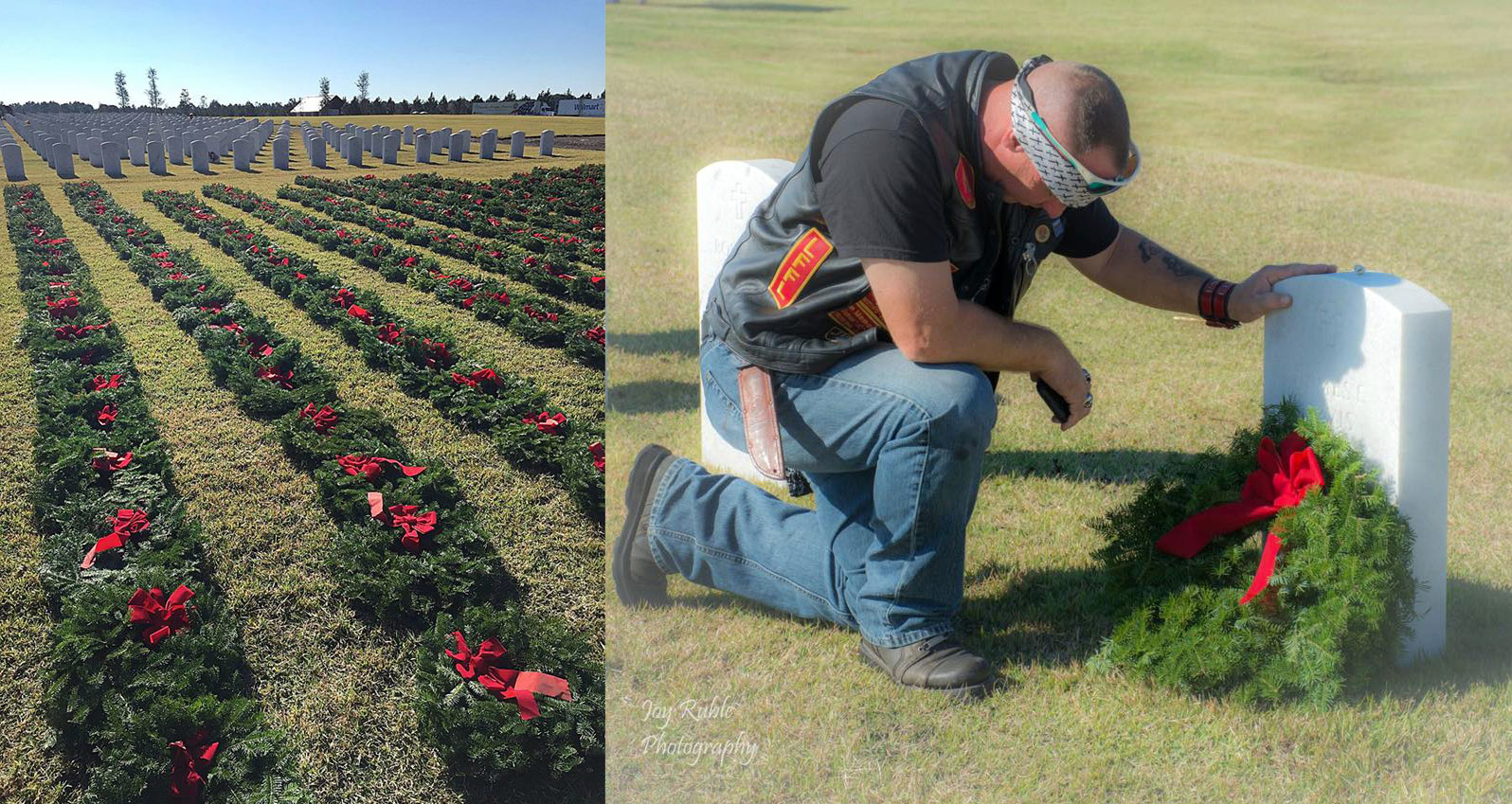 Get in Touch
Send us a message and we will get back with you as soon as possible.
Thank You.
Wreaths Across America at the Jacksonville National Cemetery.
MilSaver.com is an online shopping site featuring over 500 stores including the best-known names in retail. The site features over 30,000 coupons and deals to help you save money. The site is FREE to use, open to the EVERYONE. Wreaths Across America at the Jacksonville National Cemetery gets 90% of the profits generated when you buy something through the link.  Shop now, shop often and tell your friends to shop too! Thank you for helping us help veterans!